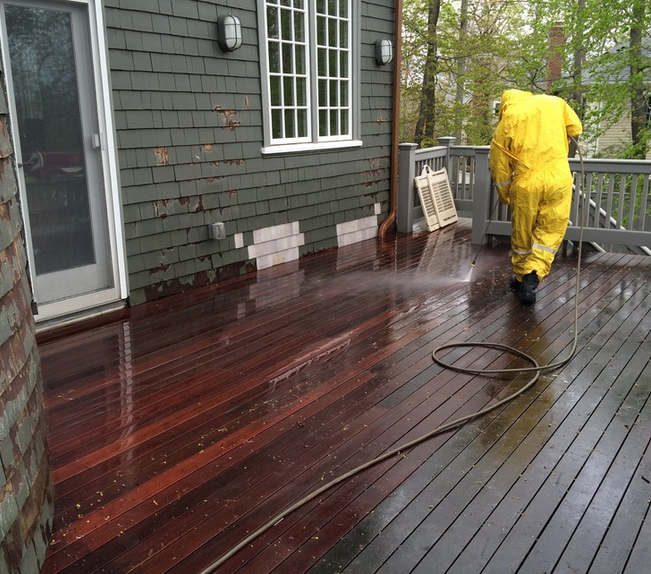 Randymars Painters Contractors Inc. is your one-stop power washing service for your home or business. Our pressure washing and power washing professionals have the skills and experience to strip away the dirt and grime that have accumulated on exterior surfaces without damaging your home's or office's finish. We'll leave your building sparklingly clean and looking like new. So if your vinyl siding is looking a bit gray or your brick office doesn't look it's best, call Randymars Painters Contractors Inc. today. We'll power wash your building until it gleams!
Residential Pressure Washing Services
Randymars Painters Contractors Inc. offers a full line of residential pressure washing services to completely clean your home, driveway, and patio. We are dedicated to providing our customers with competitive rates, quality service, and reliability second to none. Our pressure cleaning strategy combines biodegradable cleansers with water to pressure clean and deter future mildew growth. Our pressure washing professionals work hard to remove dirt, grime, and weather marks. The power washing process also reduces oxidation and eliminates loose, flaking paint to give your home a completely fresh appearance.
Think of us if you need power washing for:
Houses (concrete, brick, stone, stucco, and vinyl siding)
Roofs (low pressure)
Pool Decks
Wood Decks and Patios (restoration, cleaning, and sealing)
Screened Enclosures
Driveways and Sidewalks
Commercial Pressure Washing Services
The exterior of your office or business is the very first thing your clients see when they come to you. Since first impressions are critical, it is crucial to keep your building looking its best with regular pressure washing. When appearances can make or break a deal, you can't afford to let green mildew build up on your foundation or allow your creamy white siding to turn gray. Randymars Painters Contractors Inc. understands that protecting the exterior of your commercial property is vital not only for the integrity of the building itself, but also for your business prospects!
We're here to help by cleaning and revitalizing your landscape. Our commercial pressure washing crews have the equipment and expertise to clean all building exteriors, and we will customize our service to meet your needs.
Think of us if you need power washing in the Boston area for:
Buildings and Exteriors
Awnings and Columns
Restaurants
Storage Tanks
Parking Lots and Garages
Sidewalks and Access Roads
Warehouses
Storefronts